Assisi
Head of House: Mr A Islam
The house is named after St. Francis of Assis, founder of the Franciscan orders. Born in Italy in 1181, Francis of Assisi was born to a prosperous silk merchant and a noblewoman. Indulged by his parents, Francis lived the high-spirited life typical of a wealthy young man where he became renowned for his drinking and partying. One interaction with a beggar began to change his life, in this account, he was selling cloth in the marketplace on behalf of his father when a beggar came to him and asked for alms. At the conclusion of his business deal, Francis abandoned his wares and ran after the beggar. When he found him, Francis gave the man everything he had in his pockets. His friends mocked him for his charity; his father scolded him in rage. Later in life he was captured during a war between Assisi and Perugia and imprisoned for a ransom. He spent nearly a year in prison awaiting his father's payment. During this time, he began receiving visions from God. Francis heard the voice of Christ, who told him to repair the Christian Church and live a life of poverty.
Consequently, he abandoned his life of luxury and became a devoted Christian, his reputation spreading all over the Christian world. Later in life, Francis reportedly received a vision that left him with the stigmata of Christ (marks resembling the wounds Jesus Christ suffered when he was crucified) making Francis the first person to receive such holy wounds.
He was canonized as a saint on July 16, 1228. Francis is remembered for his willingness to sacrifice worldly luxuries, his devotion to the poor and his desire to care for the beautiful environment entrusted to us by God. His life story has many teachings that we could all benefit from.
Goretti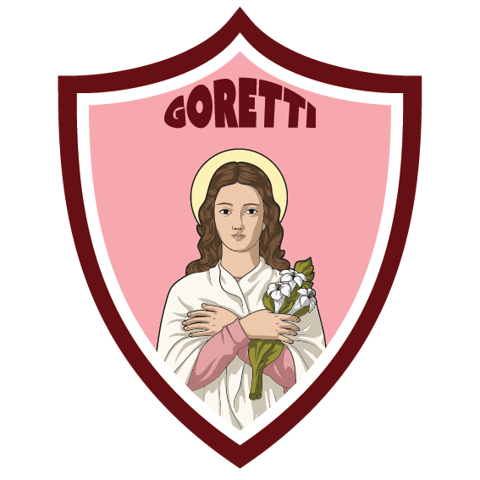 Head of House: Mrs C Beetham
The House is named after Saint Maria Goretti the patron saint of purity and forgiveness. Maria is one of the youngest saints to be canonized by the Catholic Church. Born in 1890 into a poor farming family Maria was the third of six children. When she was nine her father died of malaria and the family moved in with a neighbouring family who had a son named Alessandro. When she was just 11 years old Maria was attacked and stabbed 14 times by Alessandro for rejecting his advances. She was taken to hospital but unfortunately died from her wounds. On her death bed Maria openly forgave Alessandro and expressed a wish for him to repent. Alessandro went to prison and during his time there he had a vision of Maria which ultimately led to him repenting for his crime and on leaving prison he actually became an active part of the Catholic Church. Maria's story provides us with important lessons about faith, purity and forgiveness.
Kolbe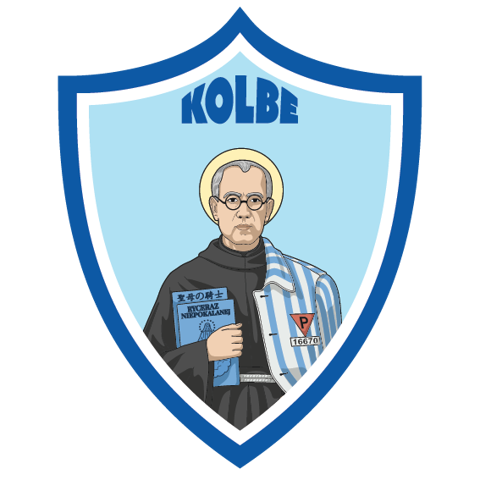 Head of House: Mrs S Tautavicius
The House is named after Saint Maximillian Kolbe. Kolbe was born in Poland in 1894 and was ordained as a priest in 1919. During the second world war, Kolbe was arrested and sent to Auschwitz. Despite the awful conditions of Auschwitz, people report that Kolbe retained a deep faith, equanimity and dignity in the face of appalling treatment. One day whilst in Auschwitz, a Nazi commander sentenced 10 people to death by starvation, one of the men Franciszek Gajowniczek was selected and cried out "My wife! My children!". This is when Father Kolbe offered to die in place of Franciszek and the Nazi commander accepted this swap. The deed and courage of Maximillian Kolbe spread around the Auschwitz prisoners, offering a rare glimpse of light and human dignity in the face of extreme cruelty. Due to his selfless actions, we use the word Humility to describe House Kolbe.
Romero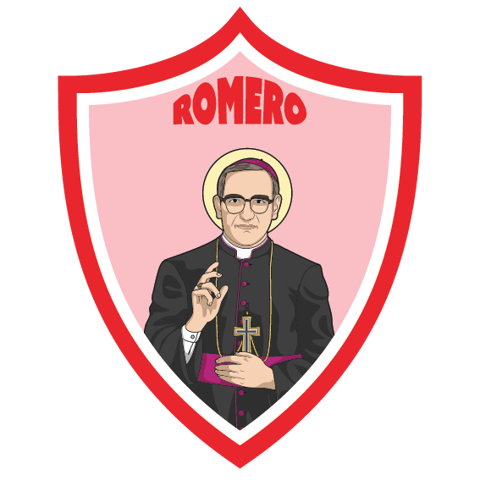 Head of House: Mr M Lomas
Content being updated